Posted Grades or GPA data can be uploaded into eduCLIMBER as an assessment or score. This lesson provides some thought processes in determining how organizations should bring in that grade data for teachers and other staff users to best visualize this data.
If your organization is not uploading grade data but would like to, please contact the data services team. After uploads begin, districts must validate their own data as needed.
Parent Assessments

For organizations wanting to group data together by subject or department, it is recommended to set up Parent Assessments prior to importing Grade data.
As shown above, there is a Parent Assessment with 27 assessments that fall under it. When doing an initial search for grades, all 27 assessments will combine in a chart and display an Average score, as determined by the calculation set on the Parent Assessment.
Parenting courses with calculations will require a gradebook upload to occur before the visualization will display. It is recommended to add parenting calculations at the end of the school day, prior to the overnight upload of gradebook data.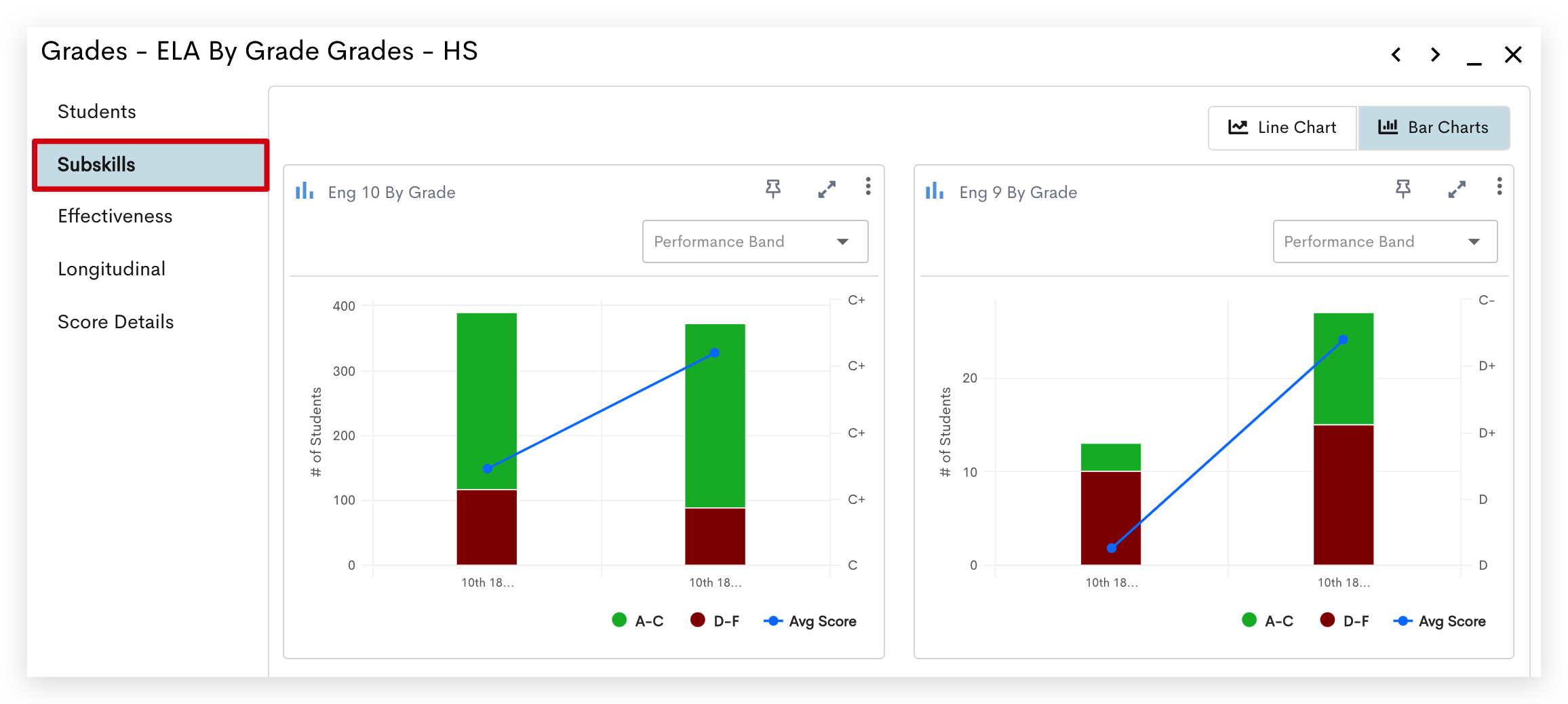 Drilling into the Chart of the Parent Assessment allows users to view the Subskills that make up this chart. The Subskills display each course that makes up the subject or department.
Parent Assessments may make more sense for elementary school grades as students likely will not have multiple courses for a particular subject or department.
Recalculate Scores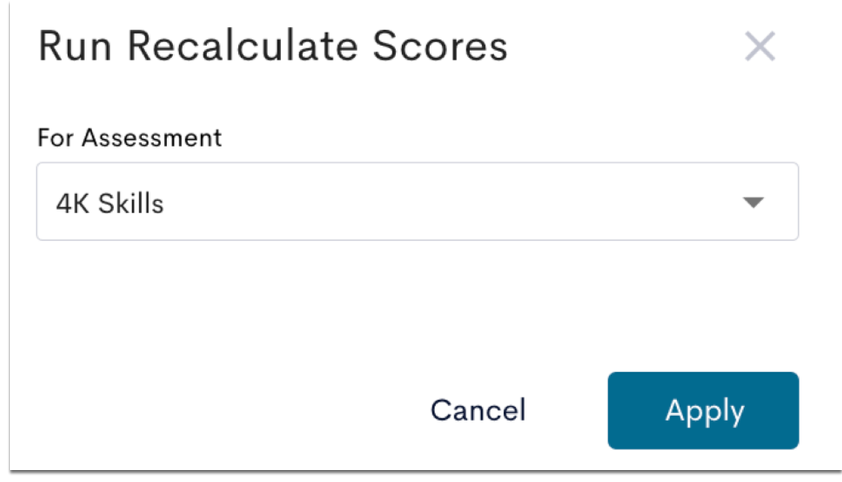 When a calculation is selected for a Parent Assessment, the option to recalculate scores will appear. A recalculation is required in order for the visualization to display.

Confirmation of recalculation will appear in the notification window at the bottom right of the screen.
If grades are not recalculated at the time of selecting a calculation type, recalculation will automatically occur after the next gradebook upload. It is recommended to add parenting calculations at the end of the school day, prior to the overnight upload of gradebook data.
Score Displays
Consider setting up Score Displays for the created assessments to ensure that all data displays the same in Charts and Data Walls. Having a combination of numbers and letters may be confusing when trying to understand the average score, so maintain a single convention if possible.
Assessment Windows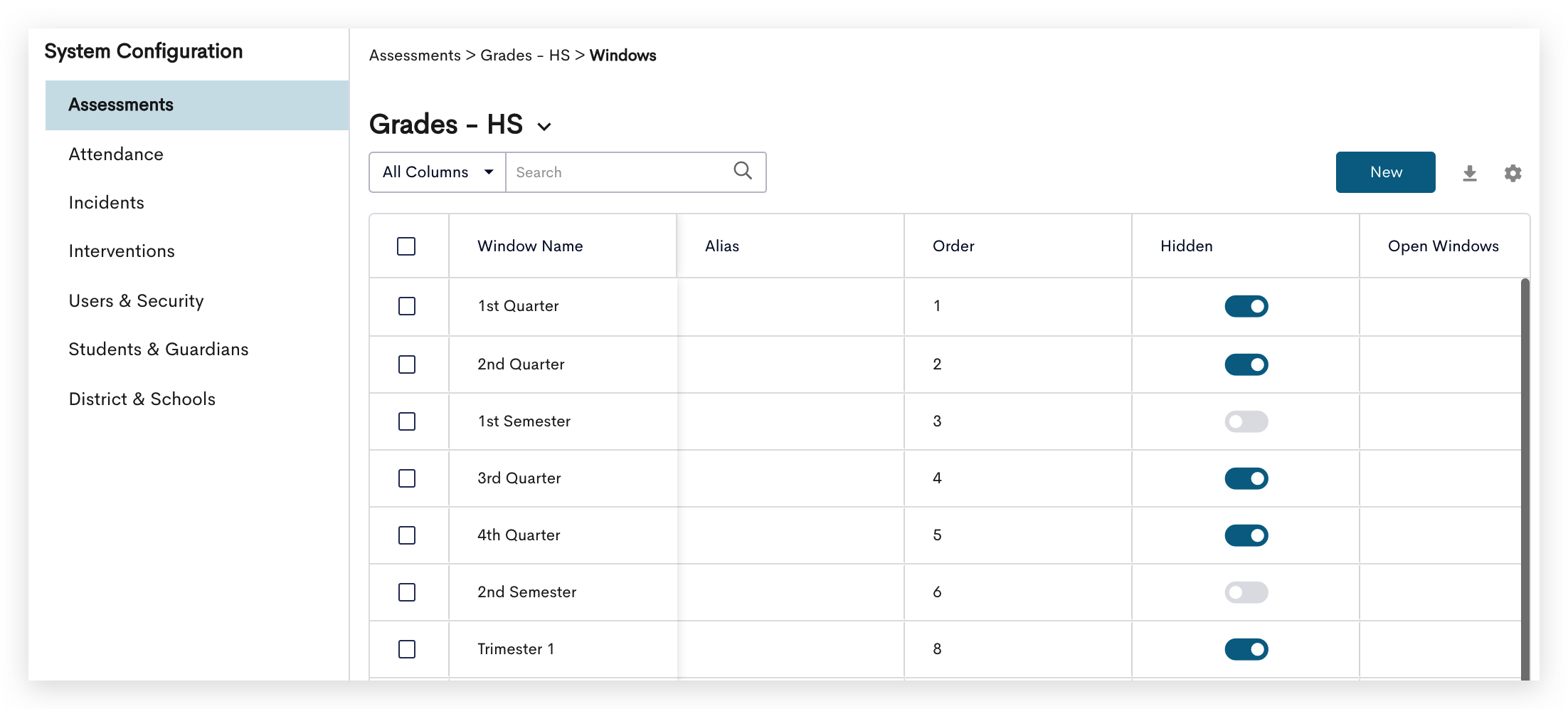 Use Assessment Windows to organize data. Windows can be used to organize grade data by trimester, semester, quarter, progress periods, and more.
Next Steps
To learn more about Charted Data, visit Understanding Academic Charts.