This article guides users through exporting their intervention data. The data included in the export may include but is not limited to Student Participation, ROI, Skill Area, Interventionist, Intervention Level, and Intervention Type. Exporting data can be helpful in district and user reporting.
Exportable Data
Users have the option of exporting more data in their export than what is visualized on the platform. Data included in an Intervention Data export includes:
Student ID
State ID
District ID
Student
Participation
ROI
Skill Area
Interventionist
Level
Type
Title
School
Grade
Ethnicity
Gender
Category ID
Intervention ID
Intervention Plan Start Date
Intervention Plan End Date Student Intervention Plan ID
Intervention Plan ID
Plan Start Date
Plan End Date
Plan Session Duration
Plan User ID
Possible Days
Completed Days
Current Day Complete
Exit Status
Recorded Day
Schedule Date Occurrence
Disabilities
Exporting Intervention Data

Select Interventions from the left side menu.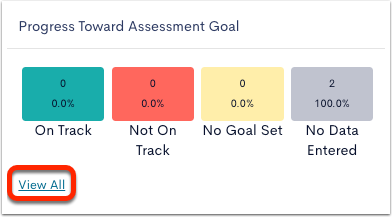 Select View All at the bottom left of the Progress Toward Assessment Goal module.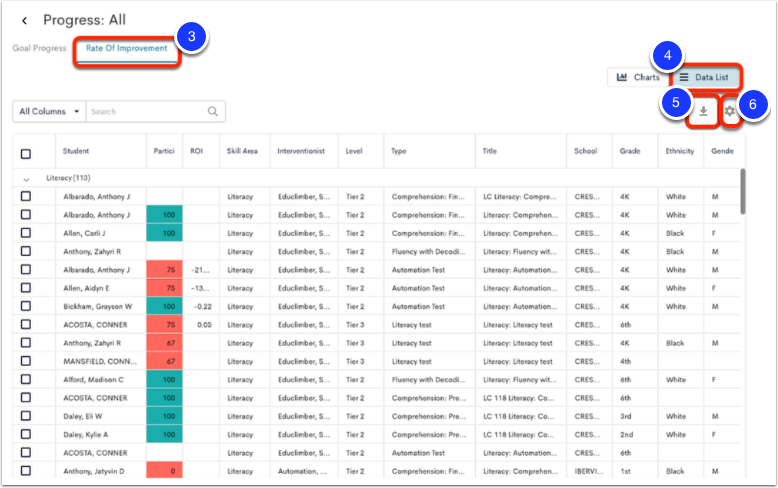 Select Rate of Improvement.
Change the view to Data List.
Select the arrow to download a CSV of the table.
Select the Gear to add or remove columns from the table view.