Using the Updated Interface? Click here to view your help document
This lesson will guide you through applying target sets in your eduCLIMBER system.
Where to Start
Once score ranges are saved, the target set name will appear in red text in the left side menu. A flag will also appear on the screen, indicating the Target Set needs to be applied.
If you want your newly created target set to be the default target set for your district, select the Default option. Remember to hit the green "Save" icon as well.
The flag that appears on the screen indicates the target set needs to be synced. Click the "Refresh" circle icon to sync the target set with your system and have it apply to your platform.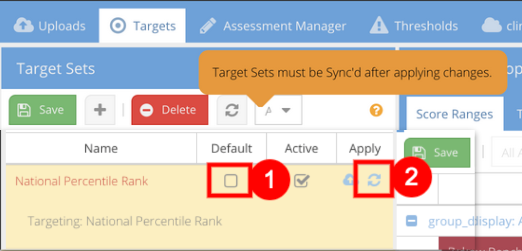 Note: Even though you hit the "Refresh" icon, you will need to log out then back in to eduCLIMBER to see the updates or refresh your browser to see the target set immediately.
Next Steps
To learn more about Target Sets in your eduCLIMBER system, see the lessons in the Target Sets manual.