Still using our Classic Interface? Click here to view your help document
This lesson will guide you through viewing the Student Assessment Report in your eduCLIMBER system.
Where to Start

When viewing a Student page, select Create.
Choose Assessment Report.
Modify Report Criteria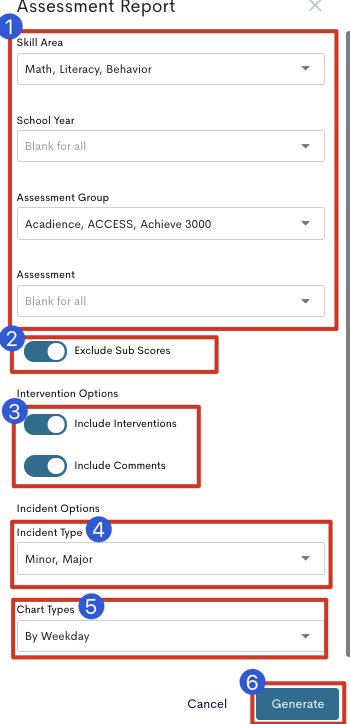 Select the Skill Area(s), School Year(s), Assessment Group(s), and the Assessment to include on the report. For all filters, leave blank if all should be included.
Use the radio slider to include or exclude Sub Scores
Use the radio slider under Intervention Options to determine if intervention data and intervention comments should be included or excluded
Select the Incident Types that should be included (if none are selected, none will be included)
Select the type of chart that will display the incident data
Generate
Next Steps
If you would like to learn more about eduCLIMBER, see other lessons within the General manual.