Still using our Classic Interface? Click here to view your help document
In this lesson, you will learn to schedule a new meeting from the Dashboard.
Where to Start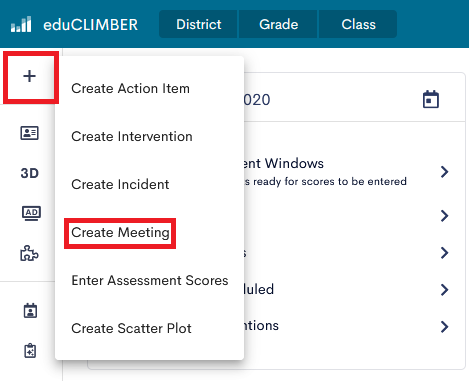 Click the Add symbol on the dashboard.
Click Create Meeting.
Meeting Setup
Title the Meeting.
Give the Meeting a Description.
Define if the Meeting is Recurring.

If the Meeting is Recurring, identify the day(s) it occurs.
Select the Date Range.
Select the # of Weeks.

If the Meeting is not Recurring, toggle the option off.
Add Attendees by clicking the Add icon.

Search By Name (default) in the "User Name" search box, or search by School/Grade or By Tag by selecting those options on the left.
Select the individual(s) to add by checking the box next to the name.

Click Okay when all Attendees are selected, then click Next.



Attach Students to the Meeting.

Use the search bar, or click "Advanced" to expand the Advanced Search interface:
Check the boxes by the names to select Students.
To add a smartFORM, toggle on the "Use smartFORM Agenda" option and select a smartFORM:
Click Save & Close to finish creating the meeting or click Save & Continue to add additional Dates:
Finally, click Save & Close at the bottom of the interface.