Still using our Classic Interface? Click here to view your help document
In this lesson, you will learn the uses and benefits of Academic Interventions.
Uses
Create Intervention Plans for a student or groups of students.
Record Attendance at the intervention session.
Record Intervention comments/treatment log.
Ability to analyze results of one or many students.
Progress monitoring linked to intervention.
Benefits
Creating intervention "plans" doesn't require filling out forms.
Automatic Reporting:

A report available that reflects the basics of what intervention is being done, by whom, and when, and monitoring of the intervention.
Automation email reminders of follow-up meetings and summary of interventions.

Student-specific throughout:

Intervention record
Flag that indicates they are in an intervention on the data wall and student tab.
Efficacy/Data Overview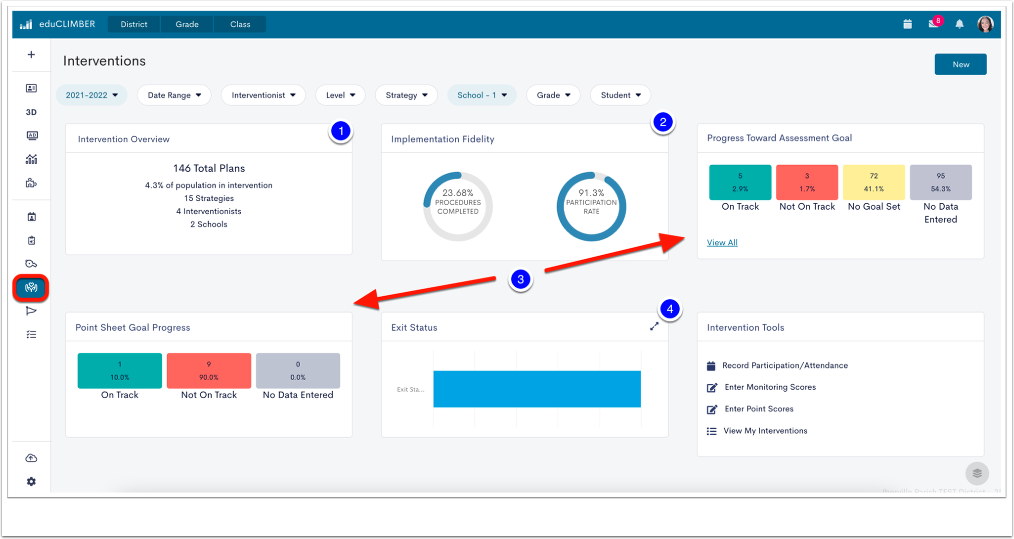 Select the Academic Intervention tile from the left side menu allows users to
View Active Plans
View Implementation Fidelity
View the percentages of students that are on track to meet their goals by intervention to see which are the most effective.
View student exit statuses
Intervention Process
Next Steps
Now that you've gotten an overview of Academic Interventions, learn about Adding Probes.