Still using our Classic Interface? Click here to view your help document
This lesson will guide you through navigating student comments in your eduCLIMBER system.
Where to Start
Viewing Comments from the Student Page

1. Navigate to a Student's Page. Along the top there will be a "Comments" button that displays the total amount of comments a student has. Click the button to see the list of comments.

2. A window will popup with all student comments appearing under "Recent Comments. Staff Comments, Meetings Comments, Intervention Comments all appear within this list.

3. To add a new Staff Comment, type into the New Comment text box and when finished, click Submit.
Viewing Comments from a Data Wall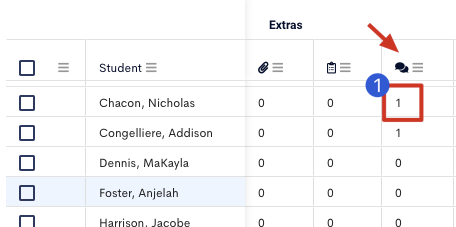 1. If viewing data within a data wall, clicking on the number in the comments column will show the comments for that student.
Next Steps
To learn about more features on the Student Profile, take a look at the Student Profile manual.