Still using our Classic Interface? Click here to view your help document
In this lesson, you will learn to add a smartFORM to an intervention.
Where to Start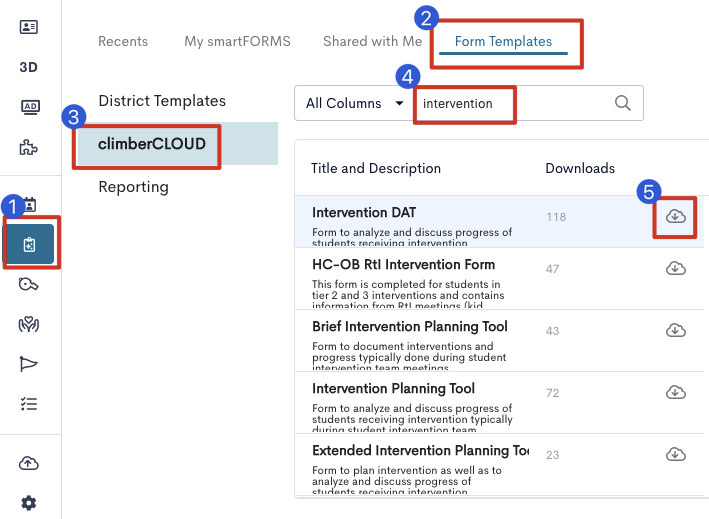 1. Click the smartFORMS button.
2. Click Form Templates.
3. Click climberCLOUD.
4. Search for "Intervention" templates.
5. Download any of the prebuilt intervention templates.
Adding an Intervention Referral smartFORM

1. After the smartFORM has been downloaded, navigate to the District Templates tab. (You may need to refresh your screen to see the new smartFORM in the list.
2. Turn the radio slider for the intervention form to on.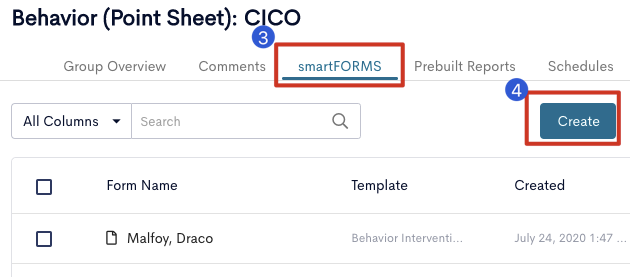 3. Navigate to an intervention and click the smartFORMS tab.
4. Click the Create button to add the newly added intervention smartFORM.
Note: The form will remain displayed in this tab. This form is also linked to Meetings. For example, decision rationales created in the Meetings section (within Collections) will automatically link to the students "Referral Info" form page in the designated area.