Still using our Classic Interface? Click here to view your help document
This lesson guides System Admin users through the process of closing out one school year to prepare for the next.
Review / Add School Years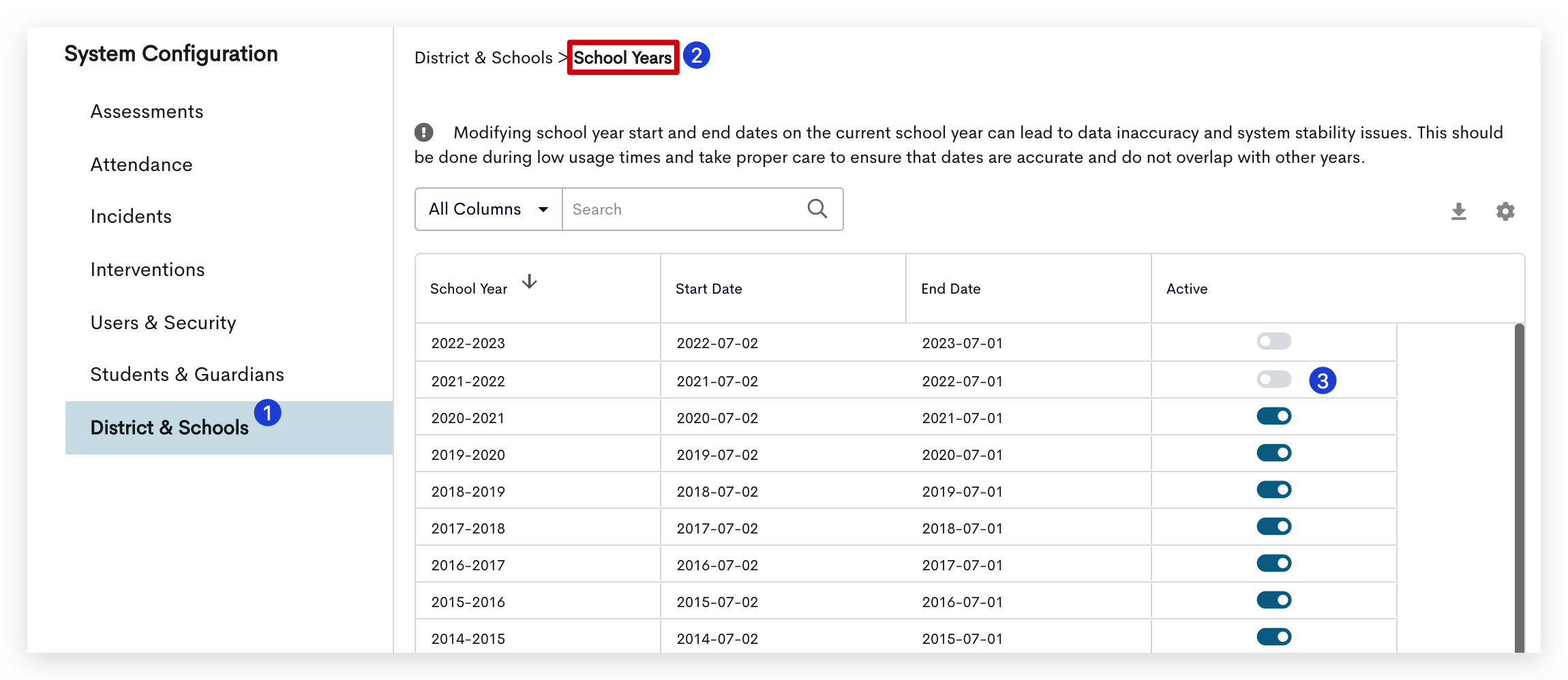 School Years can be activated at any time. When a School Year is activated, it allows users to add created and access data for that year. To activate a School Year, from System Configuration:
Go to Districts and & Schools.
Select School Years from the menu.
Find the desired year in the table. Toggle the year to Active.
Modifying school year start and end dates on the current school year can lead to data inaccuracy and system stability issues. This should be done during low usage times and take proper care to ensure that dates are accurate and do not overlap with other years.
Deactivate Staff Members
If there are users leaving this district, their accounts need to be deactivated. From System Configuration:
Go to Users & Security.
Find the user to be deactivated, and select the three-dot menu.
Select Mark Inactive to deactivate the user.
Inactive users are hidden from the table by default. User the Show Inactive Users checkbox to access deactivated user accounts.
Set School Days Off
School Days Off are configured in a Student Information System but are not brought into eduCLIMBER. Set School Days Off for accurate attendance and intervention reporting. From System Configuration:
Go to District & Schools.
Select School Days Off from the menu.
Select a School Year to set School Days Off for.
Select Add to add a new day.
Select a Start Date and End Date that is a School Day(s) Off.
Select a School(s) that the day off applies to.
Select Save.
Upload Final Assessment Data
Upload end-of-year assessment data into eduCLIMBER.
Select Upload.
Choose Upload Student Data.
Select a File and upload the data.
For more details, visit the Uploads chapter.