Still using our Classic Interface? Click here to view your help document
In this lesson, you will learn how to take attendance for a behavior intervention.
Where to Start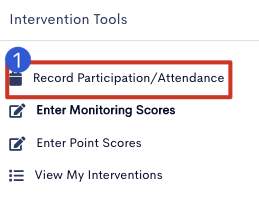 Click Record Participation/Attendance located in the Intervention Tools section on the dashboard.
Make Entry

The filters will default to the signed in account's interventions and the current date; click to edit these if needed.
By default, all intervention groups and students will show; filter to specific ones using these filters.
Use the Calendar Icon to reschedule or add a date for groups.
Use the lightning bolt to record attendance for all students.
Select the attendance status (enter time value if needed).