Still using our Classic Interface? Click here to view your help document
In this lesson, you will learn to view action items and how to mark tasks as complete upon finishing them.
Where to Start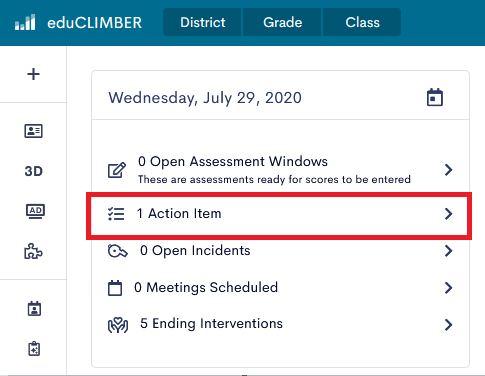 When a task is assigned to a user, that person will receive an email. They can view the details of the task as well as see the status of the task by clicking on Action Item on their dashboard. The total number of tasks assigned to a user will appear in this box on the user's dashboard.
Tasks
Click the Action Item(s )on the dashboard, to view all tasks.
Hover over an action item to view the edit pencil and delete icon. Or, click a task to see the details of the action item.
When an action item is completed, click the colored bubble under Status to view the selections and mark it as Done (On Hold and In Progress are other options).
Click Save to apply your changes.
To sort many tasks, hover next to the options in the header row to sort by Action Item, Assigned To, Due Date and Time, Created By, and Status:
Next Steps
Now that you've learned how to access action items, take a look at the other features of Meetings.