Still using our Classic Interface? Click here to view your help document
In this lesson, you will learn to open a meeting space, add notes, view student data, and action steps within a meeting.
Where to Start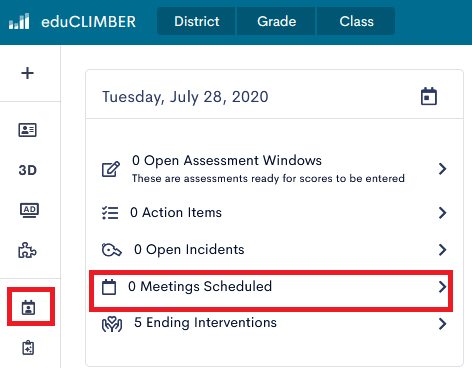 Select the Meetings icon on the left side-bar or the Meetings Scheduled option in the calendar tile.
Select the Meeting space:
Select the individuals who were in attendance the day of the meeting by clicking their name. The attendees will be highlighted in blue.
Agenda Notes
Start taking meeting notes by clicking the "expand" arrow next to each Agenda Topic.

Select New Note.
Enter text into the Note Body. There is a 500 character max.
If the note should be visible to others and relates to one or multiple students, use the Attached Student(s) function.
If the Note is Private, toggle on Private Note

Select Add when the note is complete.
The new Note will appear at the end of the topic. Hover over the three dots to Reply to, Edit or Delete the note.
Student Data
During the meeting, attendees can click the Students tab in the left action menu to see individual student information for students who are added to the meeting space:
Click the student name to view that student's data.
To the right of the student, a window will appear. Above the widow are options for Interventions, Assessments, Incidents, Attendance, SmartFORMS, Comments and Tags. Navigate the various data for the student by selecting a tab at the top of the page:
Meeting Notes
To add meeting Notes not attached to a specific agenda item, select the Notes tab in the left action menu:
To add a meeting Note, begin typing in the text box. Notes are limited to 500 characters.
If the Note is private, remember to check the Private box:
Meeting Notes can be replied to, edited and deleted on this page by expanding the three-dot menu next to the note:
Action Items
To add Action Items within the meeting and assign tasks to individual students, click Action Items in the left action menu:
To add an Action Item select + Add Action Item at the bottom of the interface:
Type the Name of the action item.
Add Assignees who are resposible for the action item.
Assign a Due Date and Due Time if appropriate (this is not required).
Select the Status: To Do, On Hold, Done, In Progress.
Add a Description (this is not required). There is a max of 255 characters.
Remember to Save the Action Item:
The Action Item will be added, and can be edited or deleted at any time: