This lesson guides admin users through creating new users and updating or managing existing users in eduCLIMBER.
Where to Start

Go to System Configurations.
Select Users & Security.
Select Users to create and manage users.
Create a New User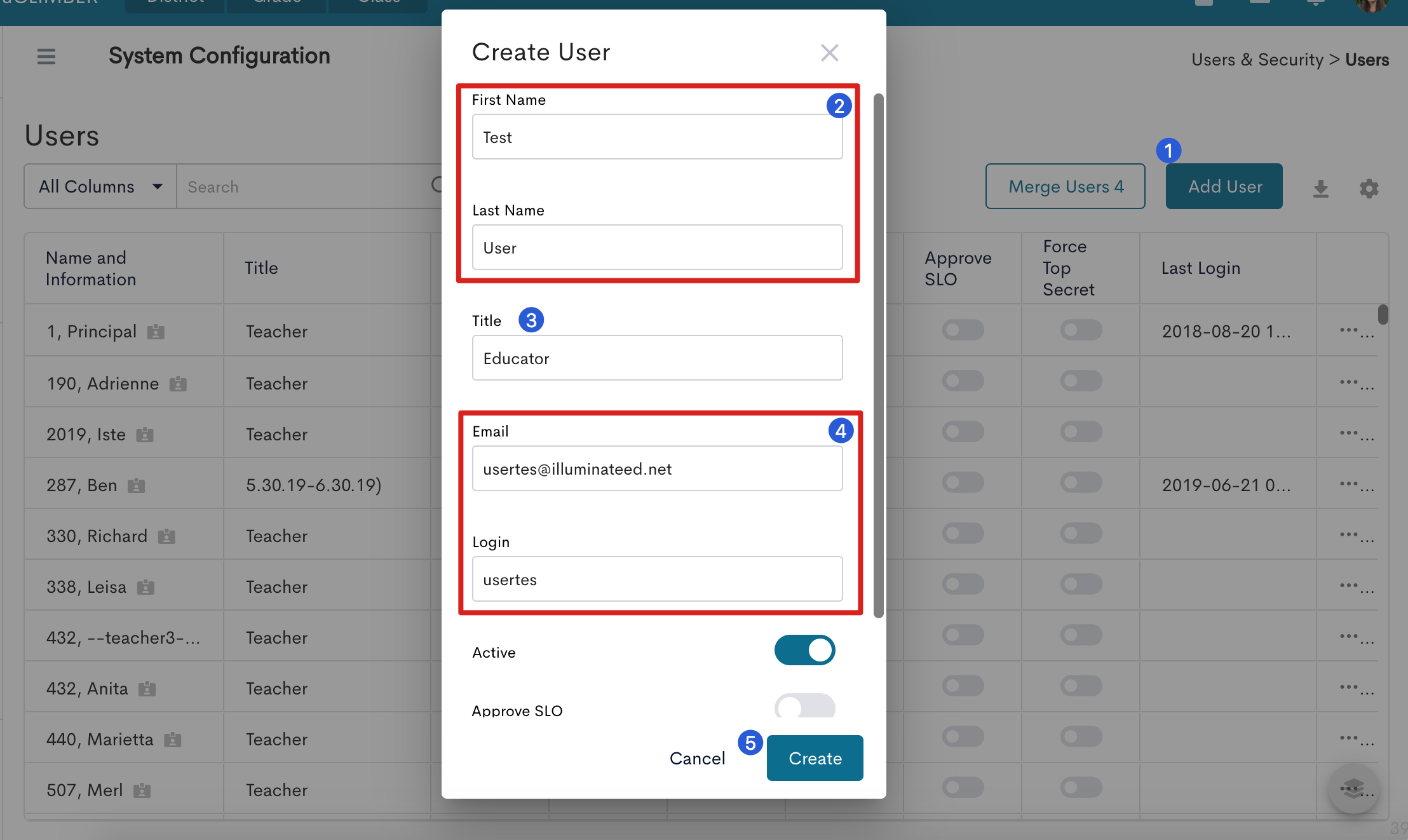 Select Add User, at the top right of the Users module.
Enter the First Name and Last Name of the new user.
Enter a Title for the user. Anything can be entered into this space per district preference.
Enter an Email and Login for the new user.
Select Create to create the new user record.
Email, and Login can be configured to automatically populate based on district preferences. Please contact eduCLIMBER's data services to configure these fields.
Manage Users
User name, information, and title are listed.
Permission Groups are denoted by a number in the Groups column. Hover over the cell and click the arrow icon to add a Permission Group to a user without a group.
Extra permissions granted to a user are denoted by a number. To learn more about permissions, visit Manage User Permissions.
Schools and Grades associated with a user are denoted by a number. Select the arrow icon to update Schools and Grades for the user.
An option to include All Years is available for school and grades.
If "All Years" is toggled off, the user will only have access to student data for the defined school(s) and grades(s) for the assigned year(s).
If "All Years" is toggled on, the user will have access to the school(s) and grade(s) for all years (future years included).
If "All Years" is manually toggled on for a user for a specific school/grade, when a roster file is imported, the system will not override the (i.e. the system won't remove the "All Years" toggle and assign them to a specific year - it will remain as "All Years").
Toggle Approve SLO or Force Top Secret to enable these functions for users.
The user's Last Login date is listed.
Select the three-dot icon to Edit User Info, Send Login Info or Mark Inactive.
Merge Users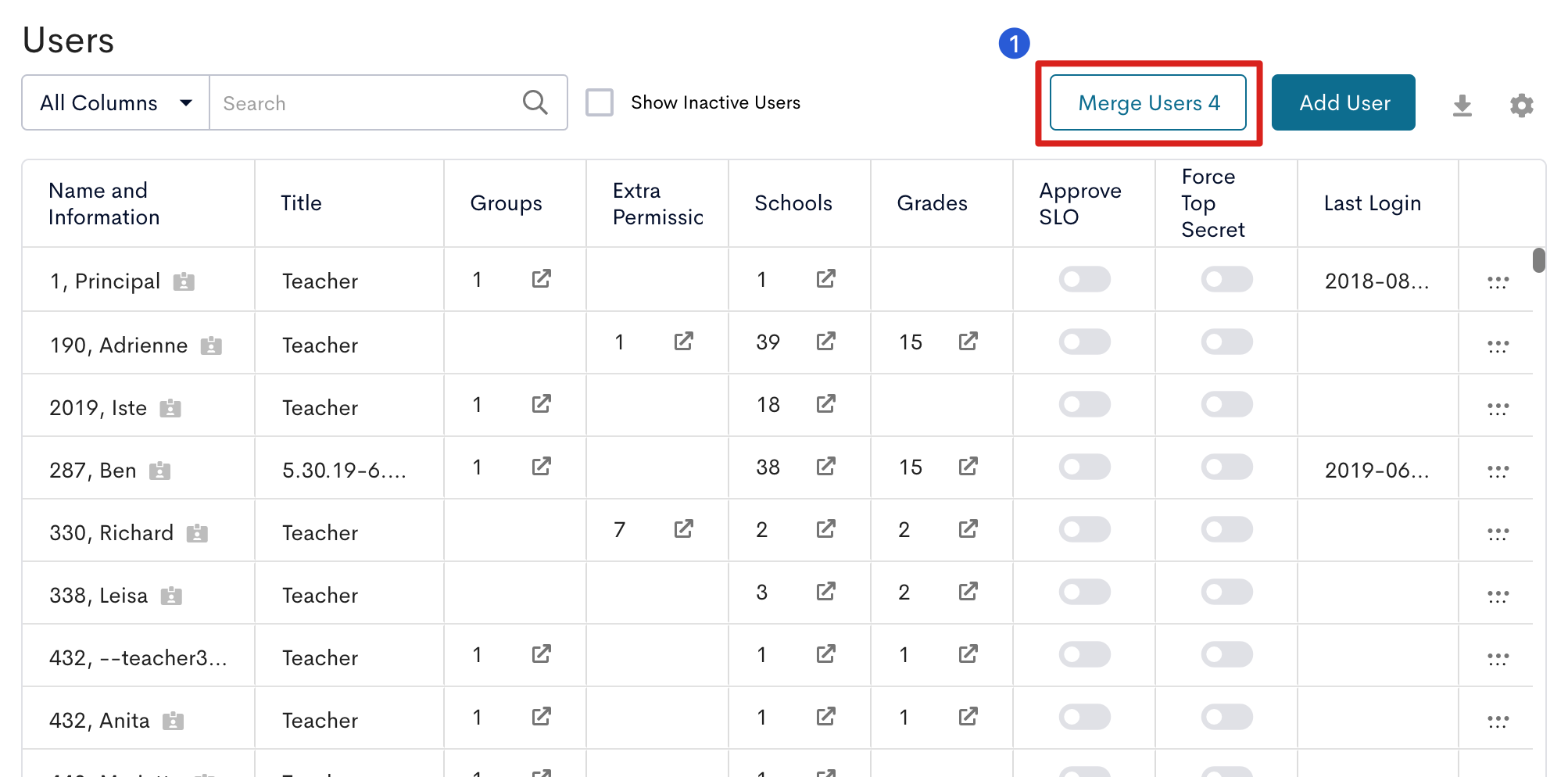 If any users need to be merged, the option to Merge Users with the number of possible users to merge appears at the top of the Users module. Select Merge Users to get started.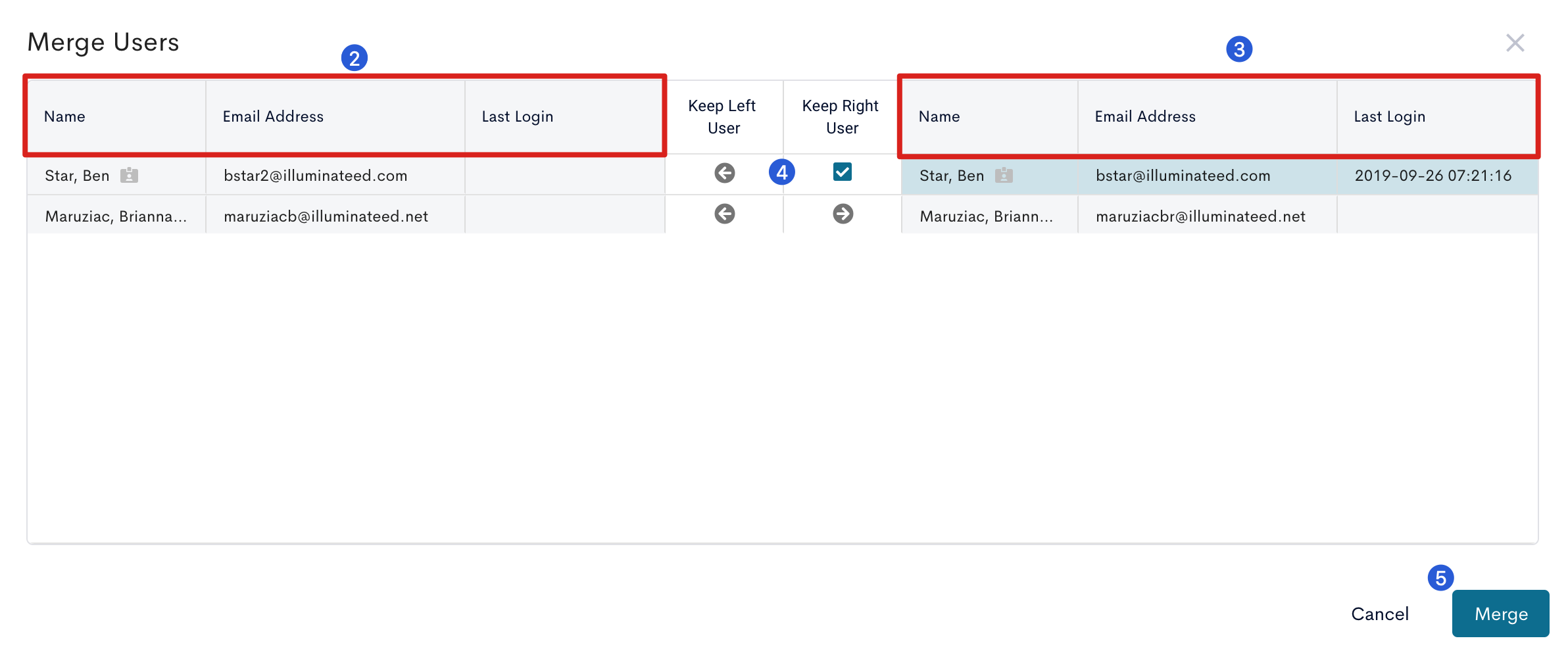 One user's Name, Email, and Last Login date appear on the left.
A match for the user on the left appears on the right with the same details.
Use the arrows to select which user to Keep. The arrow turns into a checkmark.
Select Merge to combine the users.
Next Steps
To learn more about users, visit Users & Security.