Whether uploading Demographics or manually entering them within the system, it is important to know that Demographics can always be managed within eduCLIMBER.
Required Permission: Manage Demographic Codes
Where to Start
Navigate to Demographics to manage any uploaded demographics or those manually created:

Select System Configuration.
Select Students.
Select Demographics.
Click the 3 Dot Menu next to a demographic to edit it.
Select Edit.

Edit any part of the demographic:

Demographic Name - Modify the name of the Demographic.
Field Type - Modify the type of information for the demographic (choose from: Text, Number, Date, True/False, Options)

When Options is identified as the Value Type, click within the Options column on the main Demographics screen to add the options that can be selected.

All School Years - When toggled on, it allows users to leave the year blank when the demographic is applied to students, and then it will apply to all years. When toggled on, it will not accept a year when the demographic is added to a student.
Restricted - Identify if the Demographic will have restricted access. If Restricted Access is toggled off, all users will be able to see the Demographic as applicable within the configuration.

When Restricted is toggled on, click within the Permitted Users column on the main Demographics screen to identify specific users or user groups that can view and search the Demographic.

Show on Student Profile - Identify if the Demographic will be displayed on the Student Profile.
Show on Datawall - Identify if the Demographic will be displayed on a datawall. (Note that it is not displayed by default. Users can choose to add it to a datawall just as they can any other demographic.)
Show on smartFORMS - Identify if the Demographic will be displayed on smartFORMS. (Note that it will only display on smartFORMS when the corresponding field, Demographic smartFIELD, is added to a smartFORM template.)
Delete a Demographic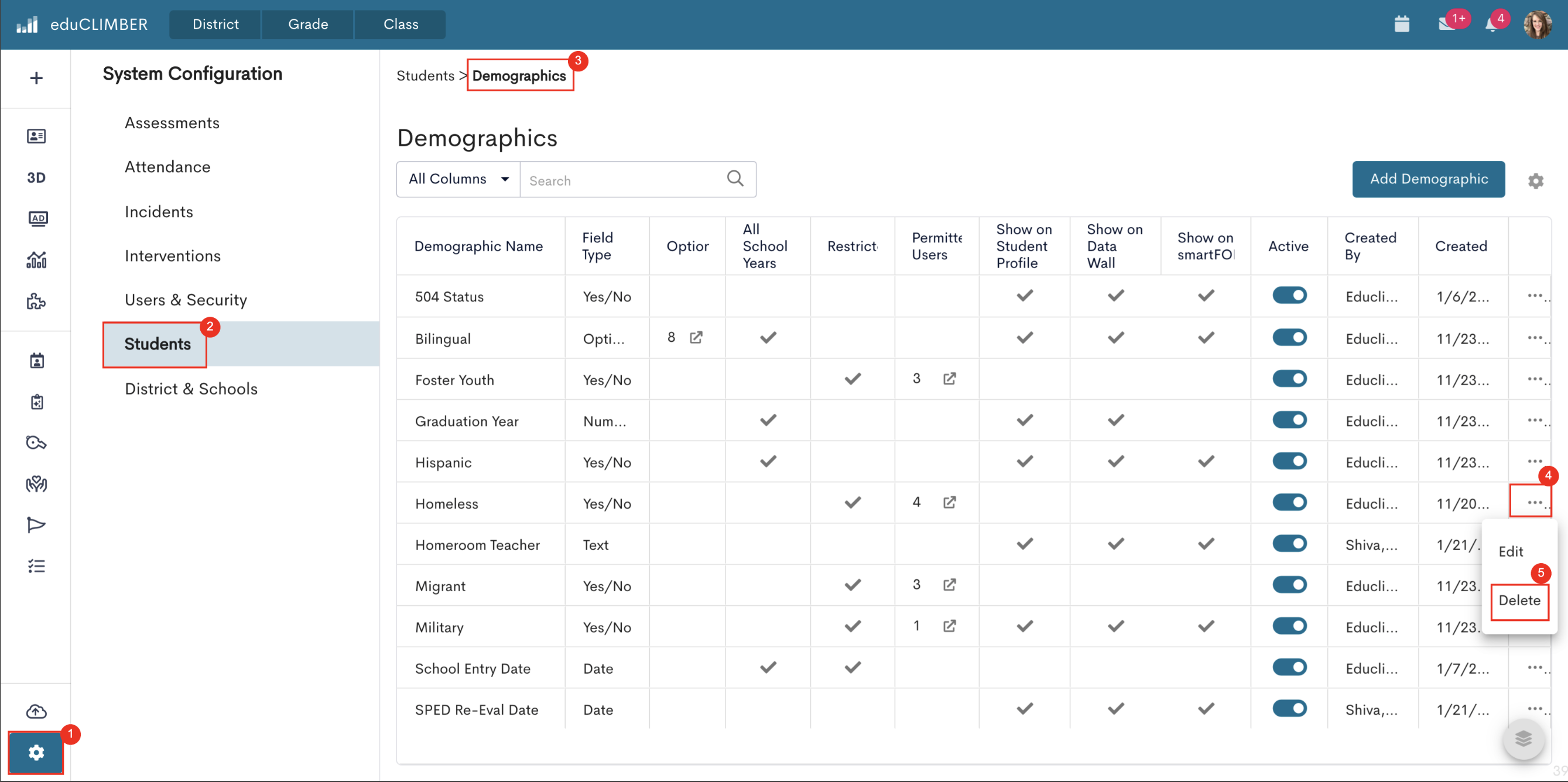 Demographics can be deleted in full regardless if the demographic was added via upload or manual entry. When a Demographic is deleted, that demographic will be deleted for all students and the Demographic will not display anywhere within the system.

Click System Configurations.
Select Students.
Click Demographics.
Select the 3 Dot Menu.
Click Delete.
Next Steps
To learn how to manage the students within a Demographic, visit the Managing Students Within a Demographic.
To learn how to add permitted users to the Demographic, visit the Adding Permitted Users article.