This article addresses frequently asked questions about Achievement Dashboard.
General Questions
What permissions are needed for Achievement Dashboard?
All users need the permission to Access District Achievement Dashboard to be able to access Achievement Dashboard and create their own dashboards as well as view the District Dashboard.
Admin level users that will be configuring the default need the following permissions:
Manage District Achievement Dashboard
Configure Assessment Manager
Manage Target Sets
Manage PBIS Setup
Manage public tags and manage user tags
For more information, visit Achievement Dashboard Permissions.
What's the difference between a dashboard and the District Dashboard?
Dashboards can be created by any user with access to Achievement Dashboard. This includes adding visualizations to it and can be shared with other users.
What are Key Performance Indicators (KPIs)?
Key Performance Indicators, or KPIs, are critical indicators of progress toward an expected result. Administrators identify and enable KPIs within System Configuration, and those KPIs are then automatically added to the District Dashboard.
Dashboard Questions
How many visualizations can I add to a single dashboard?
30 visualizations can be added onto a single dashboard. Please note that Section Headers are also included in this count. This limit is in place because dashboards should be more focused on particular data points.
What data can I use within a dashboard?
Any data that has been added to the system plus Google Sheet data.
Do dashboards roll over each year?
Visualization Questions
Can we add student information to Google Sheet visualizations?
Yes, but it is not recommended. These types of visualizations are designed more for survey type data where the information in aggregated. Any additional data should be uploaded: Upload a Generic Assessment File.
What visualization types are available to add to dashboards?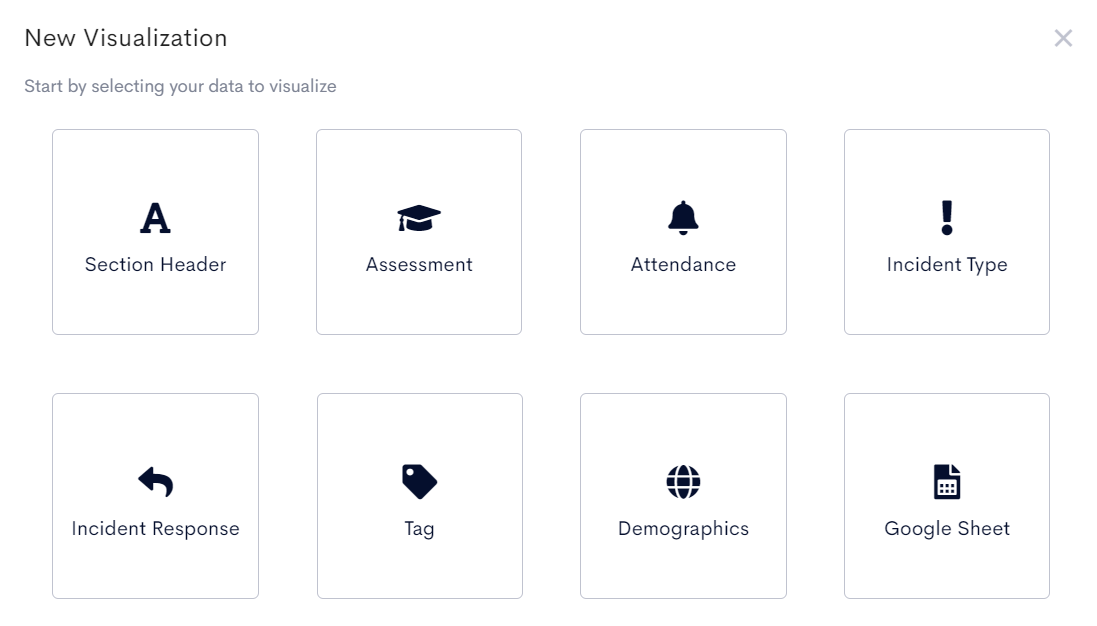 How can attendance data display?
Attendance data can display as the Overall attendance, or by Performance Bands. Performance Bands must be configured by the organization and are typically used to track chronic absenteeism.