Organizations often need information on various integration points between FastBridge and eduCLIMBER. This FAQ can help answer many of those questions.
Data Questions
What data can be imported into eduCLIMBER from FastBridge?
All assessments

Included in the export is the overall score and score details (such as national percentile rank, risk level, etc.)
Note that score details are dependent upon the assessment taken at various times on the year. Therefore, "Fall to Winter Growth" is a score detail that will display once the winter assessment is taken.

All screeners

This includes SAEBRS and mySAEBRS.


The export includes the overall behavior score and score details (such as risk level). The export does NOT include the domain scores. View domain scores in FastBridge.
SAEBRS and my SAEBRS data displays in eduCLIMBER similarly to how assessment data displays.

All academic progress monitoring data

Note that at this time, behavior progress monitoring data from FastBridge cannot be imported into eduCLIMBER.
FastBridge assessments have additional score details. Are those available in eduCLIMBER?
All score details (such as national percentile rank, risk level, etc.) provided on the FastBridge extracts (student data download) are imported into eduCLIMBER.
These details are automatically charted for each student when viewing a specific student's FastBridge data within eduCLIMBER.
Any score detail can be used to create a Performance Band

This is beneficial when wanting to answer various questions such as:

Who made at least 50% growth from Fall to Winter - configure a Performance Band using the score detail from the winter assessment called "Growth Score from Fall to Winter"

Note that score details change based on the time of year the assessment is taken. Fall to Winter information is present on the winter data. Fall to Spring information is present on the spring data.
Intervention and Progress Monitoring Questions
Can progress monitoring data be sent to eduCLIMBER?
Academic progress monitoring data is automated and is sent from FastBridge to eduCLIMBER via nightly sync. This includes the progress monitoring goal/value. Therefore, organizations can skip adding the goal in eduCLIMBER when creating the intervention/progress monitoring. When skipped, the goal/value populates in eduCLIMBER with the automated upload from FastBridge. By not adding the goal in eduCLIMBER during the creation of the intervention and with having FastBridge data automated into eduCLIMBER, organization can ensure the goal is automatically updated in eduCLIMBER when the goal is updated in FastBridge.
Behavior progress monitoring data does not get added to eduCLIMBER. If you want to see behavior progress monitoring data in eduCLIMBER, that information will need to be manually entered into eduCLIMBER.
Does intervention data import into eduCLIMBER?
Not at this time. Intervention data will need to be manually entered into eduCLIMBER to see that data within eduCLIMBER. However, progress monitoring data entered into FastBridge does sync to eduCLIMBER on a nightly basis.
*It is recommended to skip the intervention details and intervention schedule steps when setting up progress monitoring plans in FastBridge. This will help eliminate duplicate steps.
We have progress monitoring data synced from FastBridge to eduCLIMBER. When we initially created interventions, we did not link the progress monitors. How can I link existing monitors to existing interventions?
To link an existing monitor to an existing intervention, follow the steps below: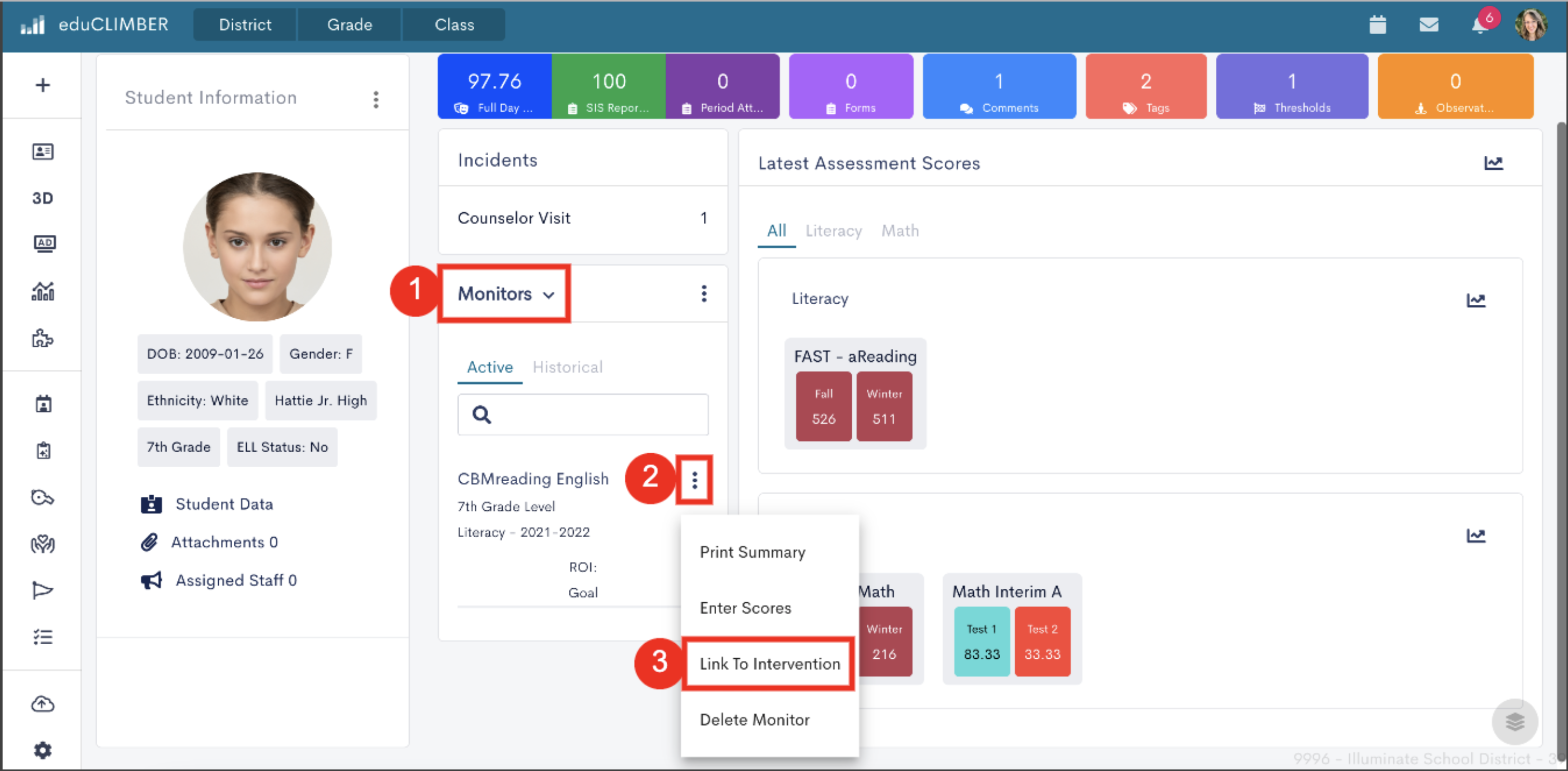 Access Monitors on the Student Profile
Find the existing progress monitoring probe to link to intervention and select the 3 dot menu
Select Link to Intervention
Benchmarks/Performance Bands Questions