Score Displays allow districts to translate numerical values into text. This is beneficial when numerical values do not accurately represent a student's score. For instance, gradebook assignments of A, B, C, D, or F.
Required Permissions: Configure Assessment Manager
Before You Start
This lesson begins by assuming an Assessment Group and its assessment has already been created. If not, please take a look at Creating a Custom Assessment.
Where to Start

Open the Score Displays tab and select New.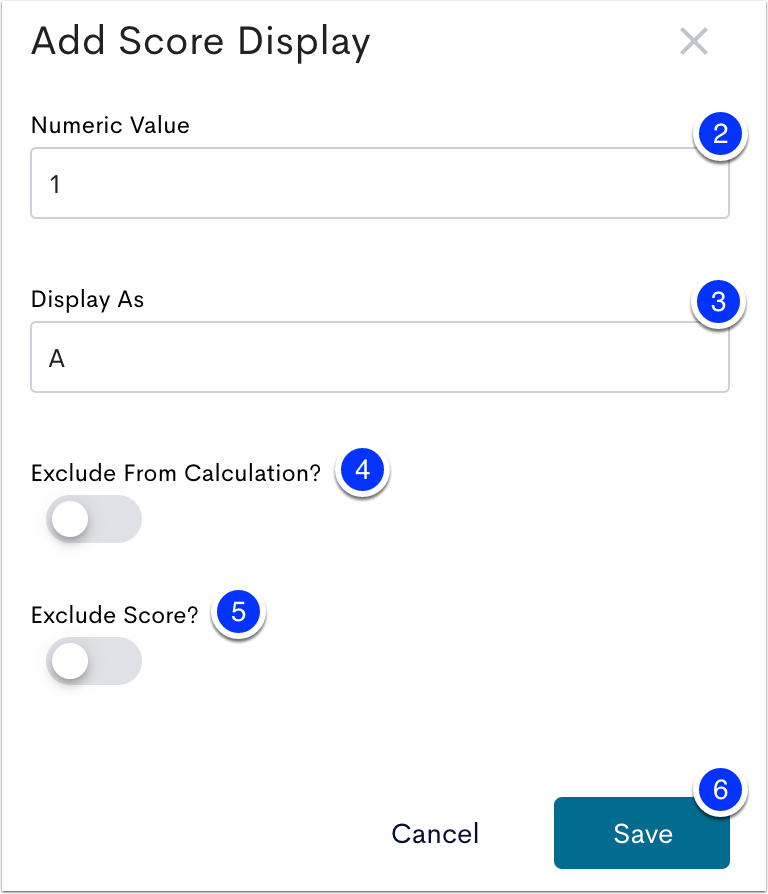 Enter the Numerical Value (the value that comes in on the imported file/ also the value that calculates into the parent score).
Enter what the numeric value should Display As.
Use the slider to exclude the score from eduCLIBER calculations.
Use the slider to exclude the score from all areas of eduCLIMBER.
Select Save.
Example Score Displays:
Gradebooks
Levels

1 = A
2 = B
3 = C
4 = D
5 = F

1= No Risk
2= Low Risk
3= At Risk
4 = High Risk

All individual numbers (1-100) would need displays added.
When there are a large amount of numerical values to create score displays for, it is common to use 0 as the minimum value and 9999 as the maximum value to ensure all numbers are accounted for in
Score Displays will show on any spreadsheet view (data walls) and when a chart is selected to drill down.
Next Steps
To learn more about using assessments in your eduCLIMBER system, see the lessons in the Assessment Management manual.